En este tutorial se describen los pasos para instalar un vCenter con una instancia de Platform Service Controller integrada. vCenter es el componente principal para gestionar un entorno vSphere, permitiendo la configuración de ESXi, clusteres, switches distribuídos, etc… En concreto se instala la versión VMware-VCSA-all-6.5.0-7515524.iso, siendo el proceso válido para instalar cualquier versión 6.x.
Los requisitos mínimos del vCenter son:
2 vCPU
10 Gb de RAM
250 Gb de HDD
vCenter está compuesto de los siguientes componentes:
vCenter Server, vSphere Web Client, vSphere AutoDeploy, vSphere ESXi Dump Collector y vSphere Update Manager.
Se dispone de un instalador vía comanods y de uno con GUI. El instalador con GUI está en la siguiente ruta: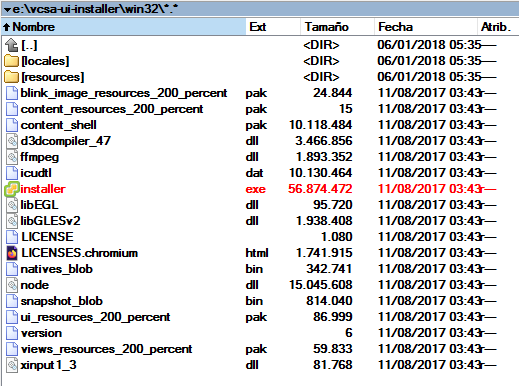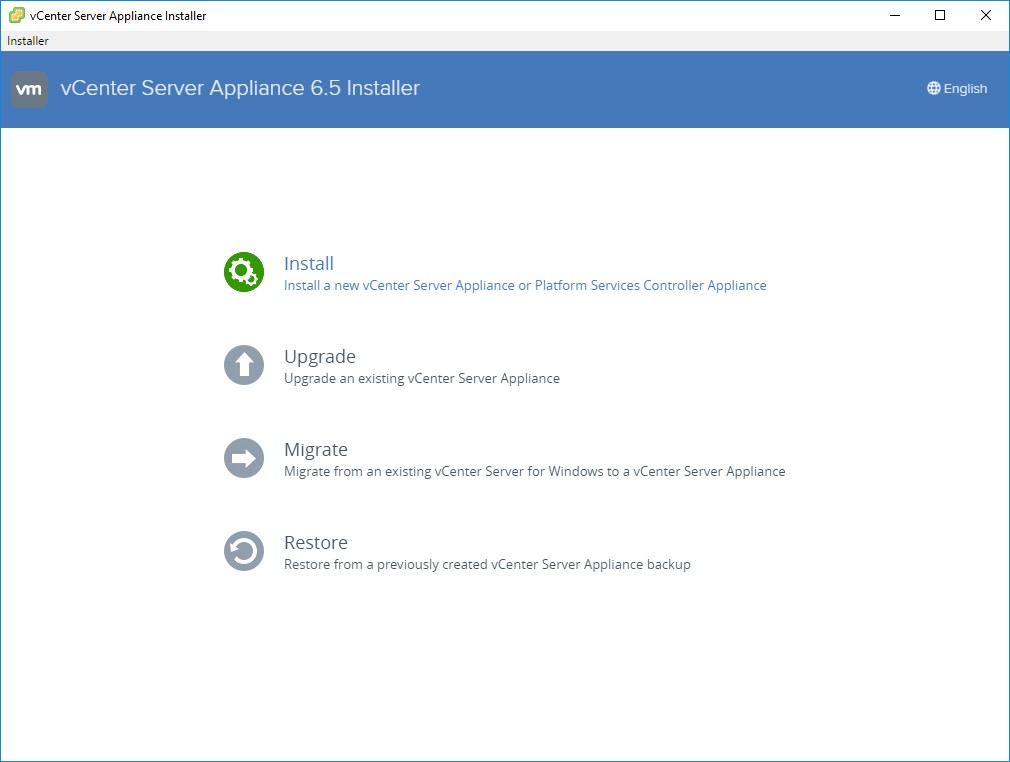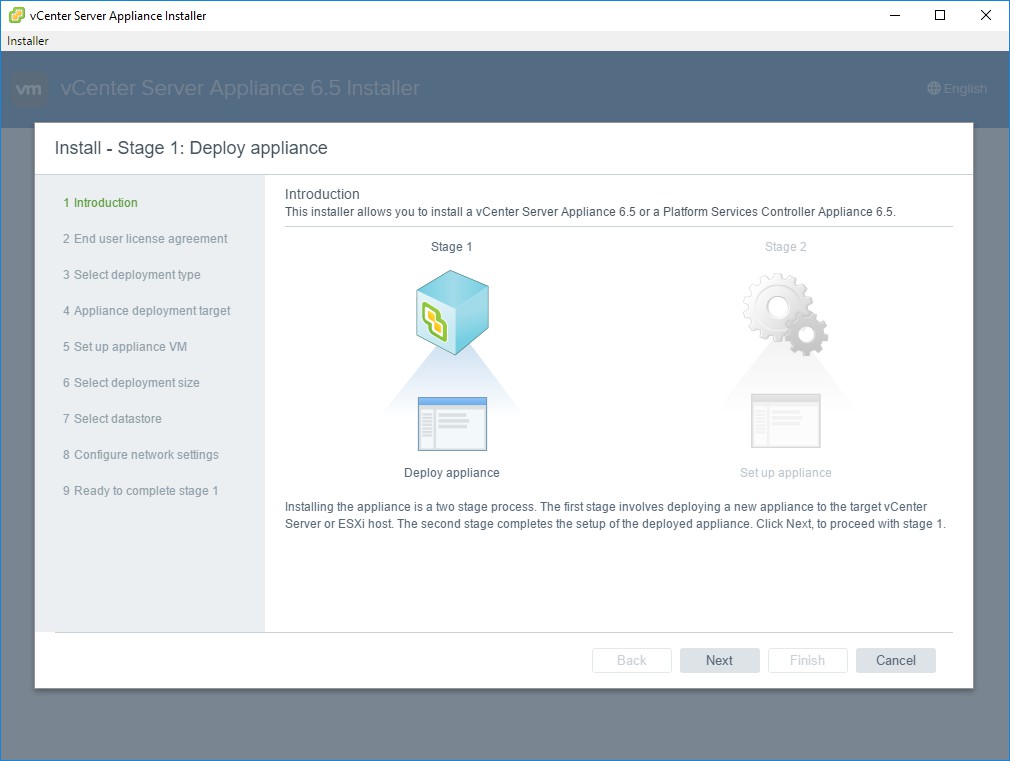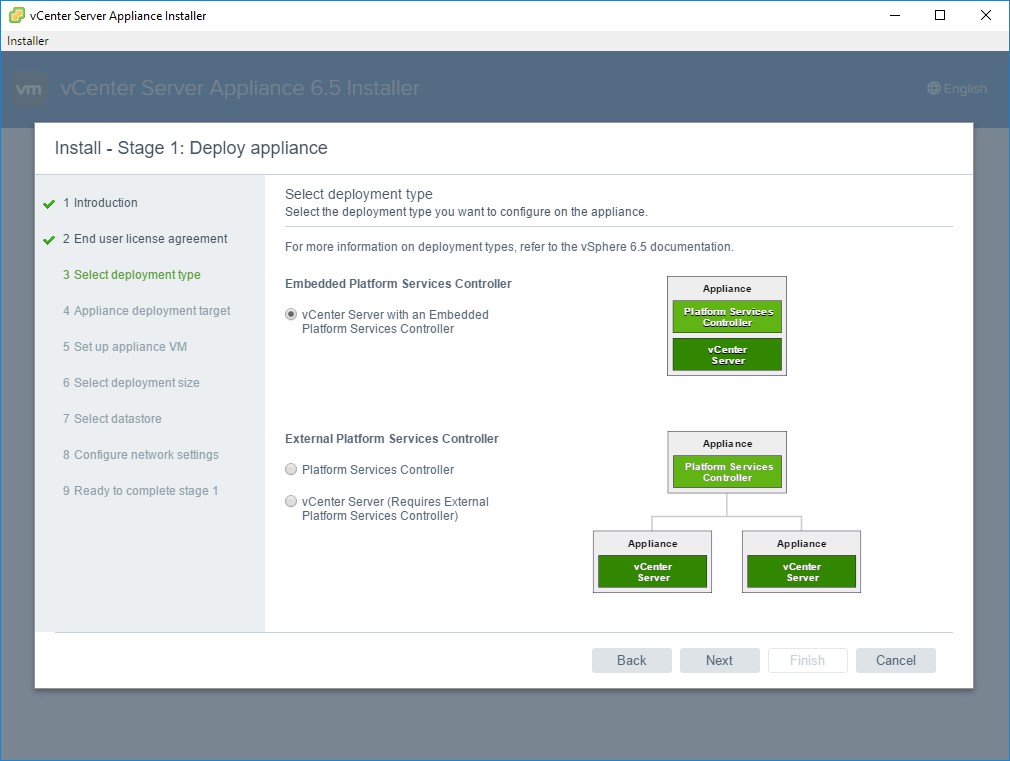 Se recomienda utilizar el nombre FQDN, pero también se puede añadir la IP del host ESXi: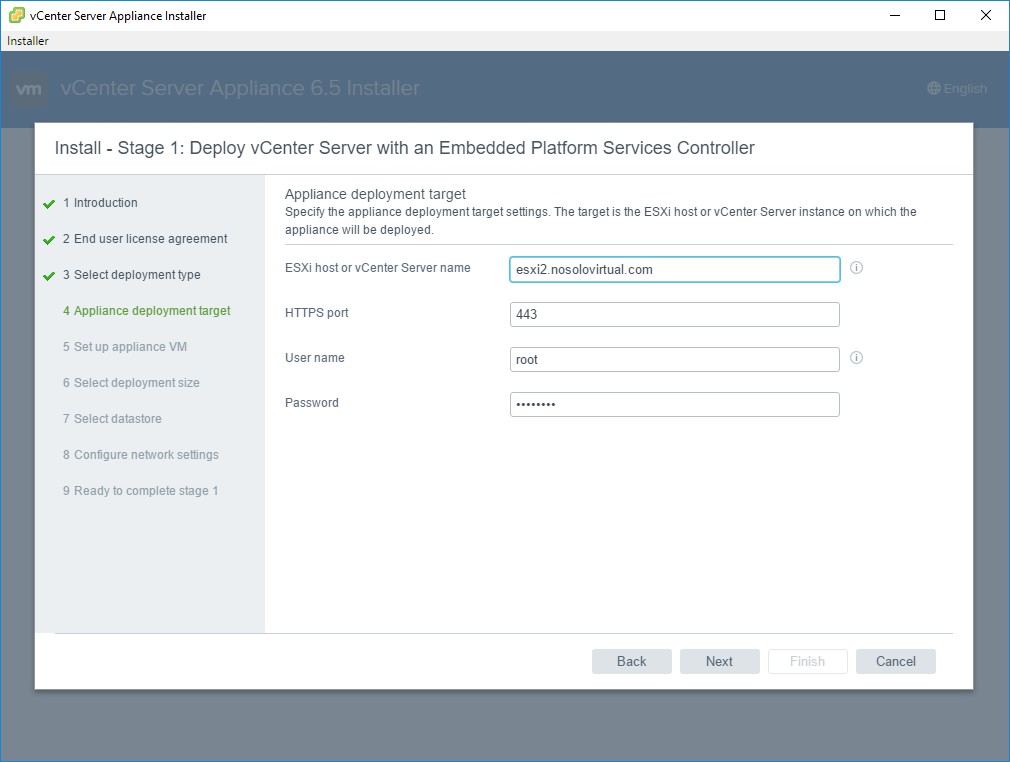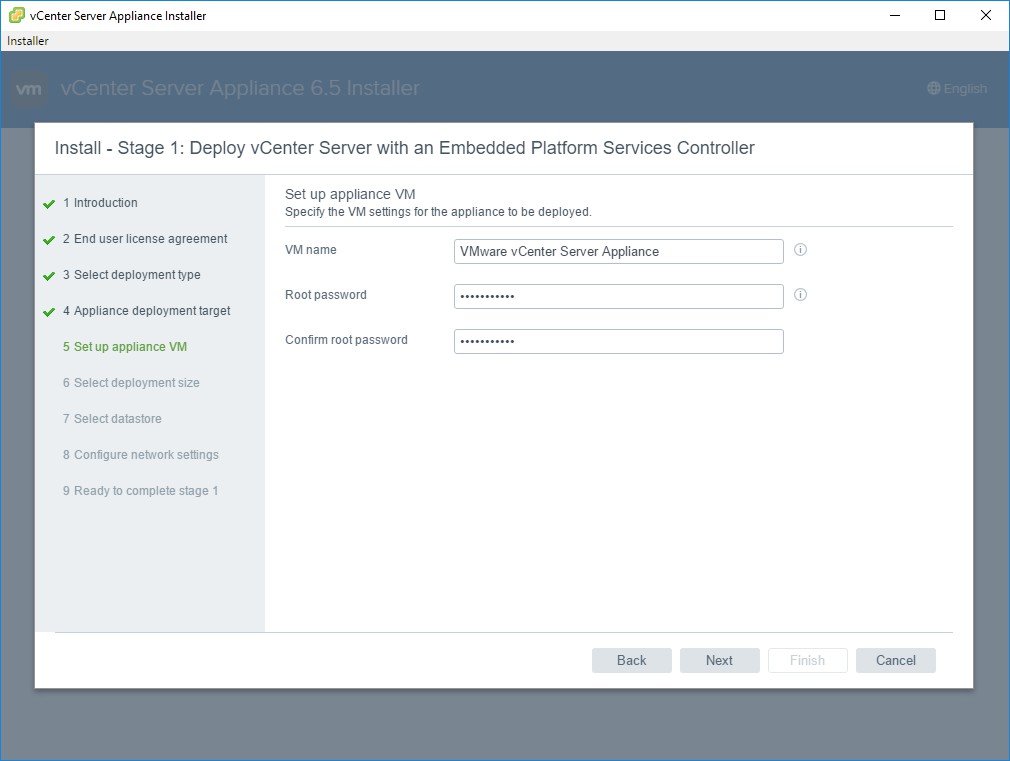 Para un entorno de pruebas, el despliegue Tiny es más que suficiente: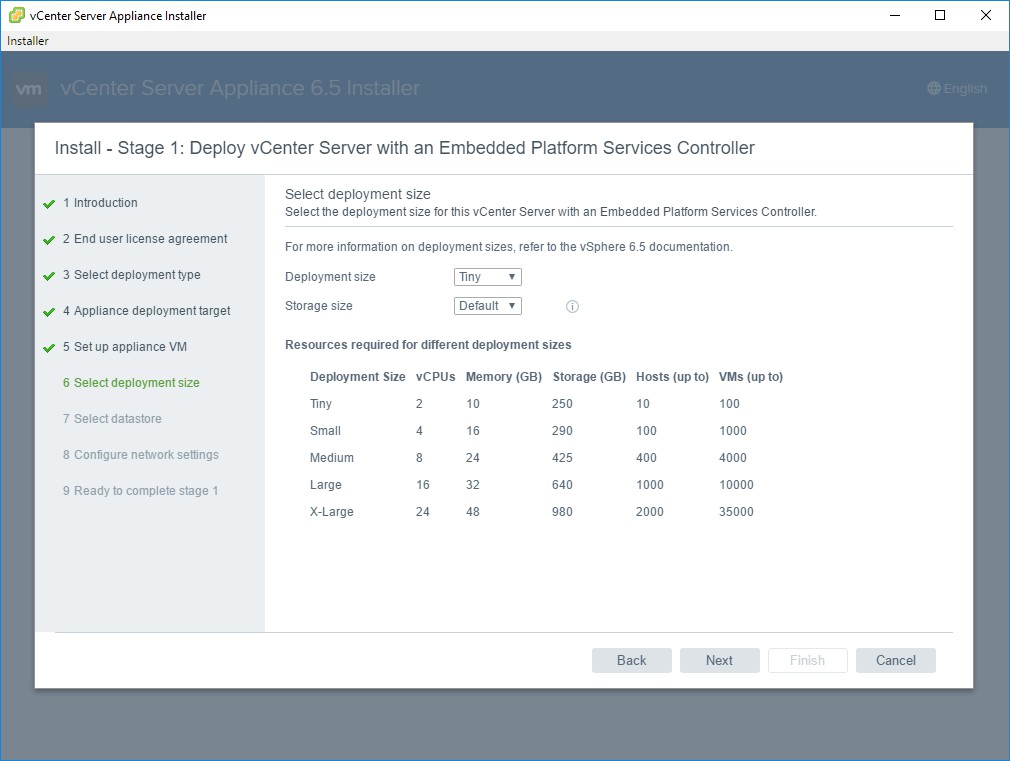 La instalación se va a realizar en el mismo Datastore Local del ESXi. En un entorno de producción es conveniente la instalación en una SAN: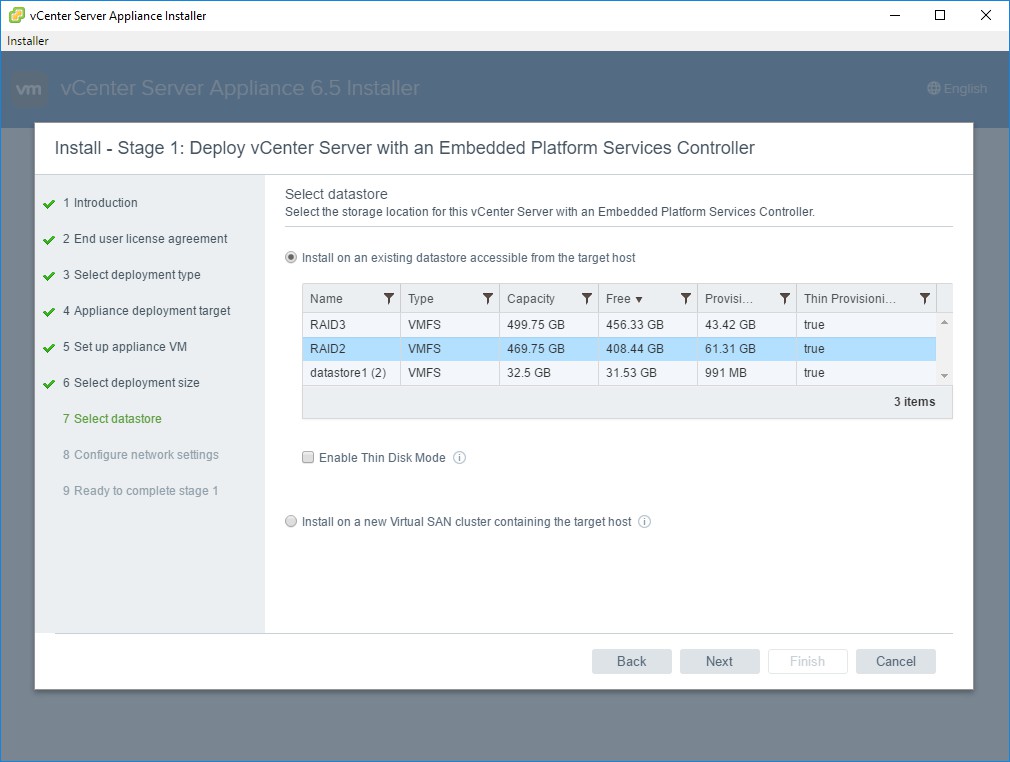 En el caso del vCenter, es necesario que tenga resolución con un DNS: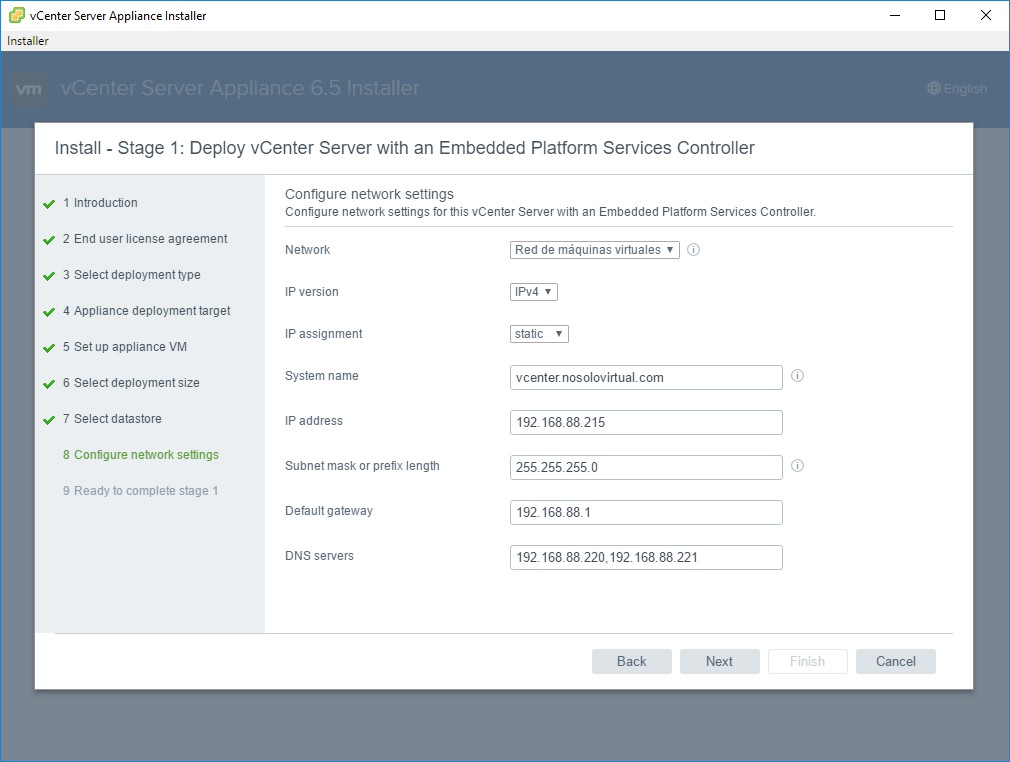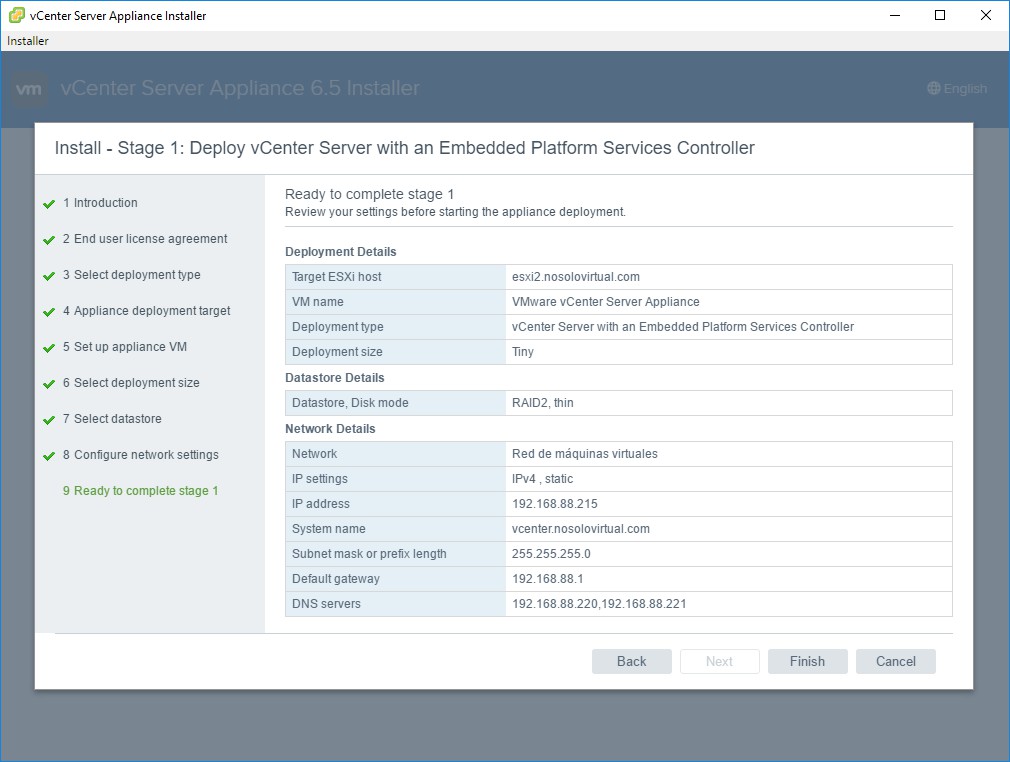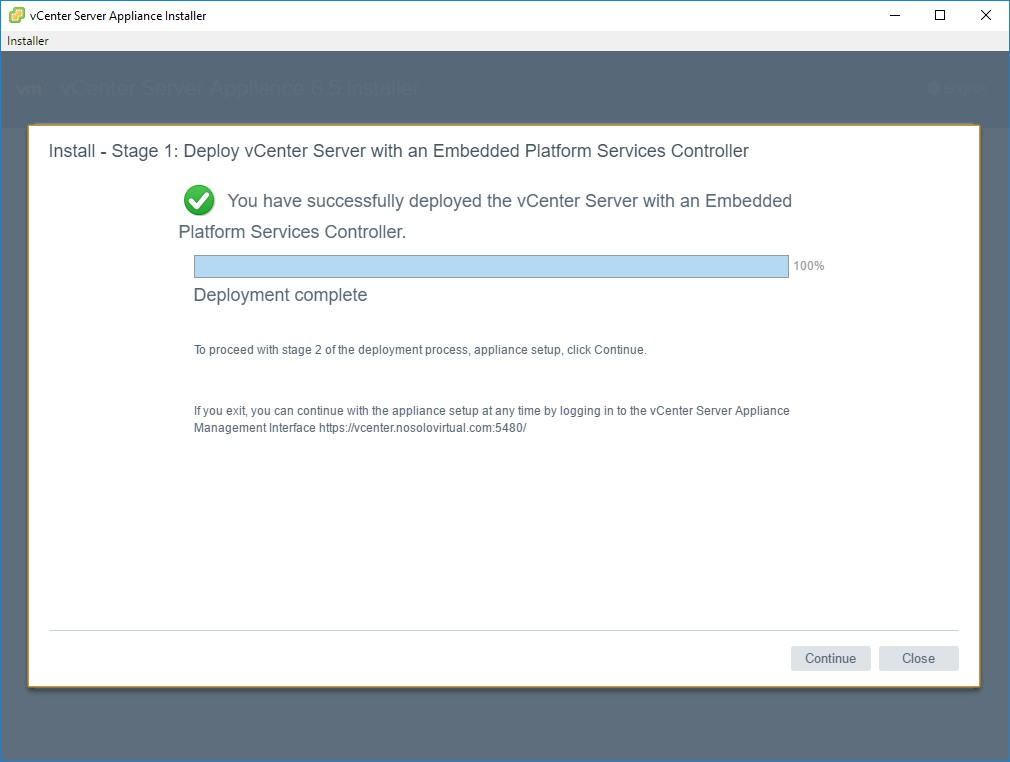 ya está realizada la primera parte de la instalación: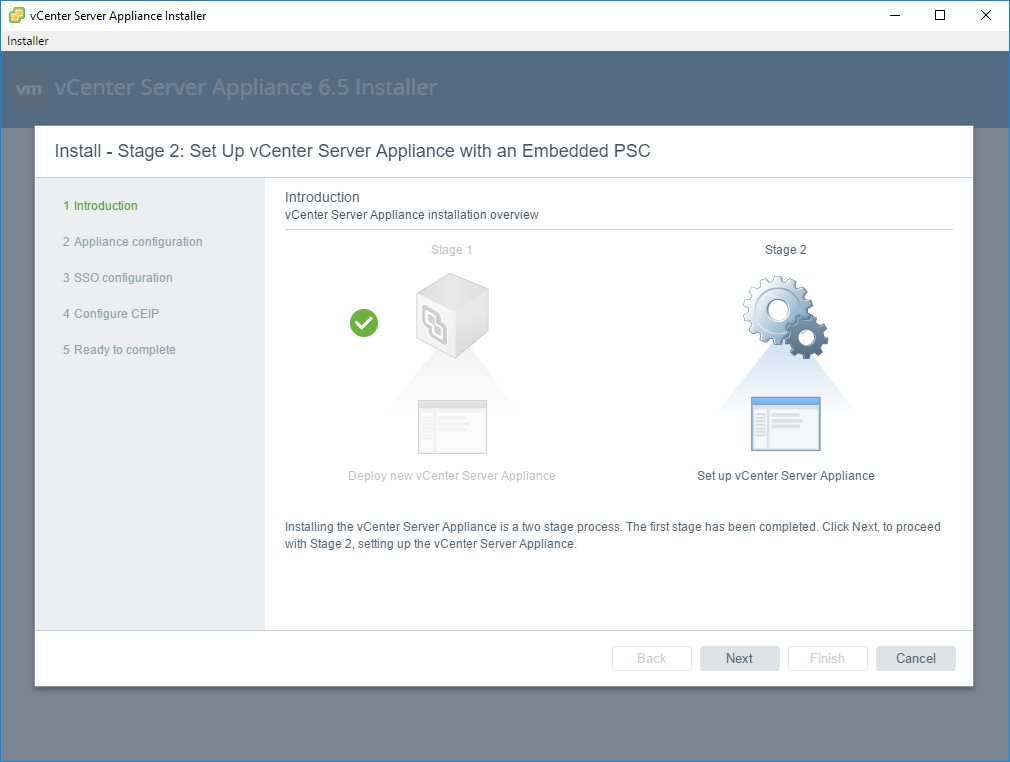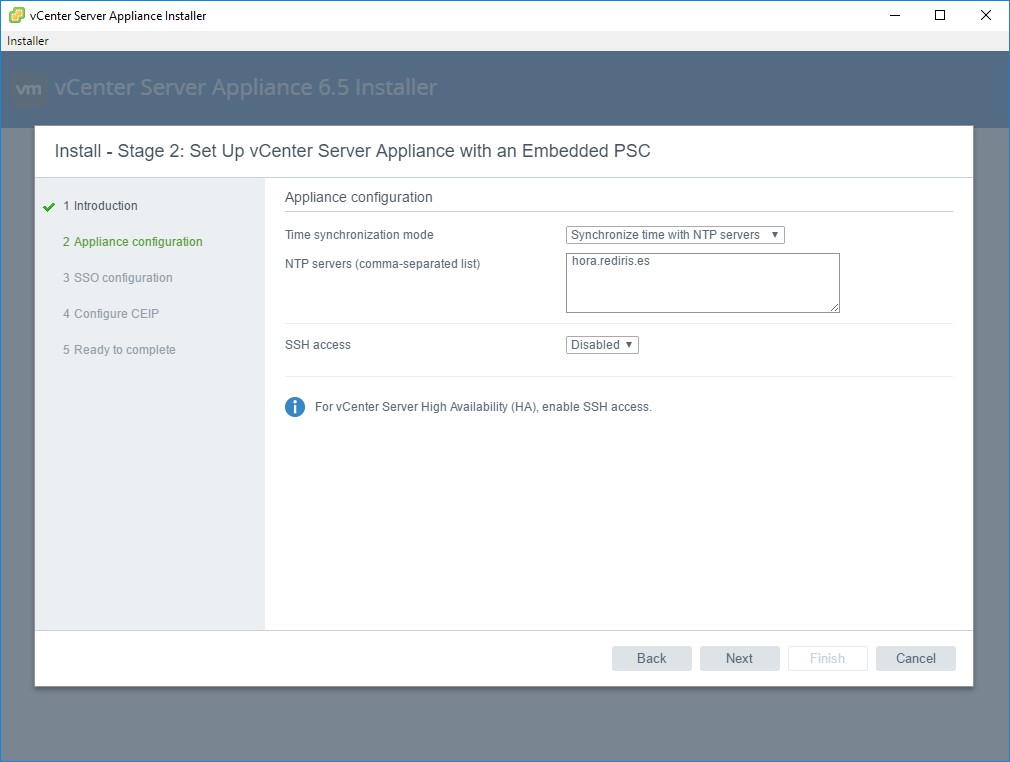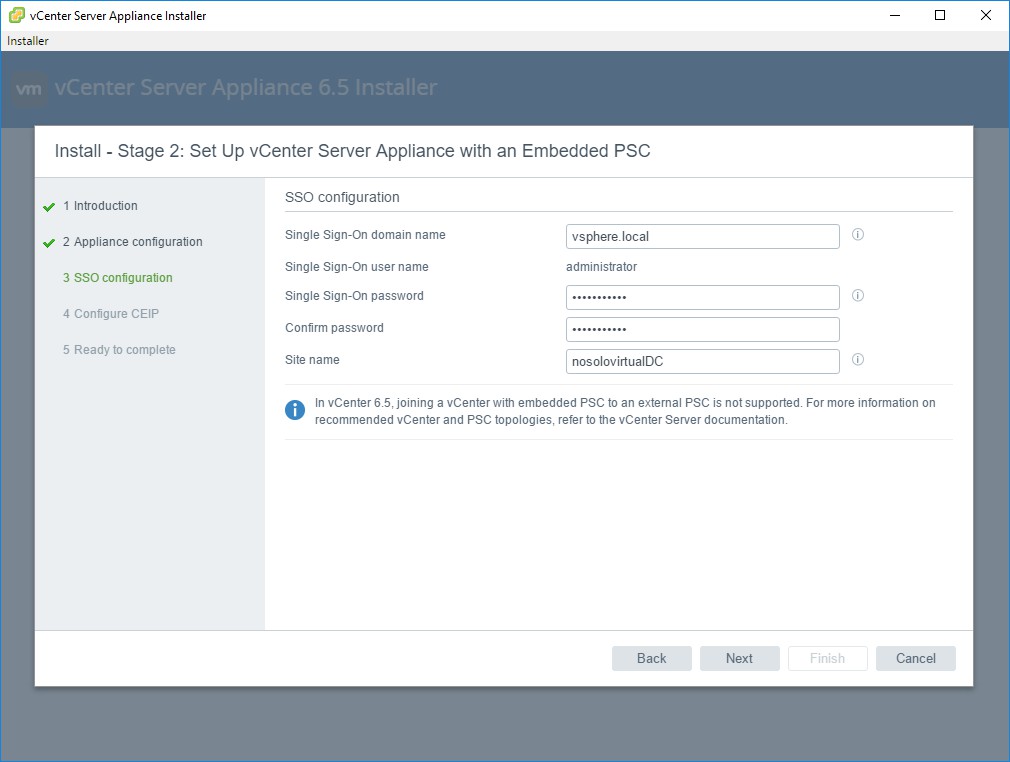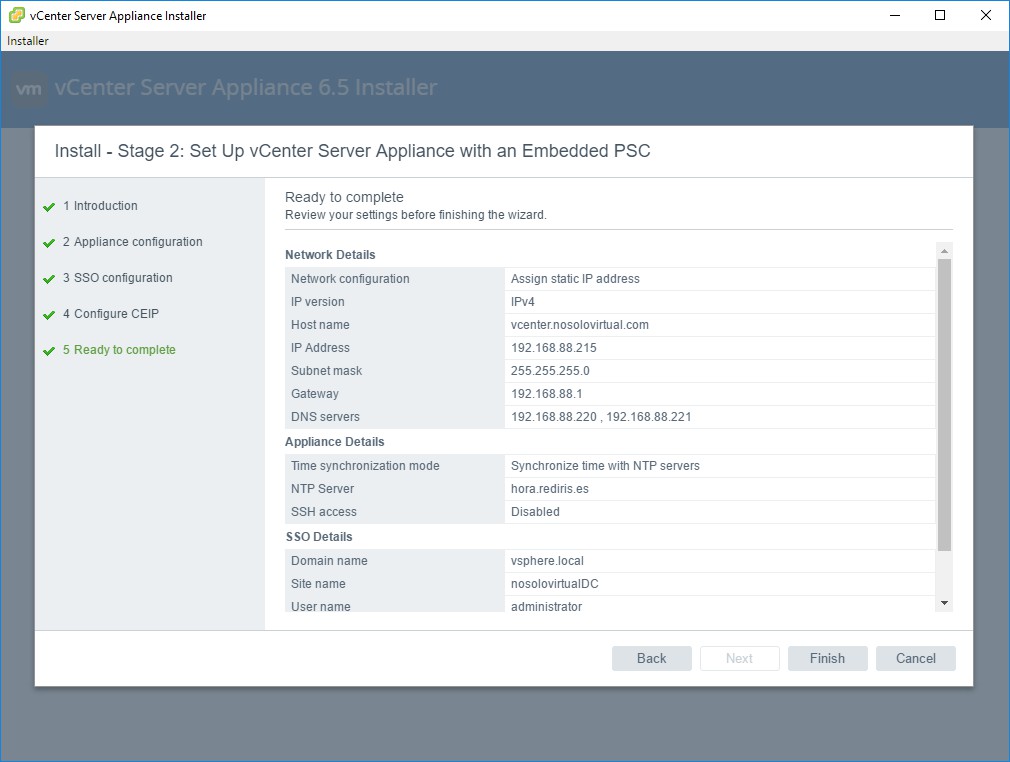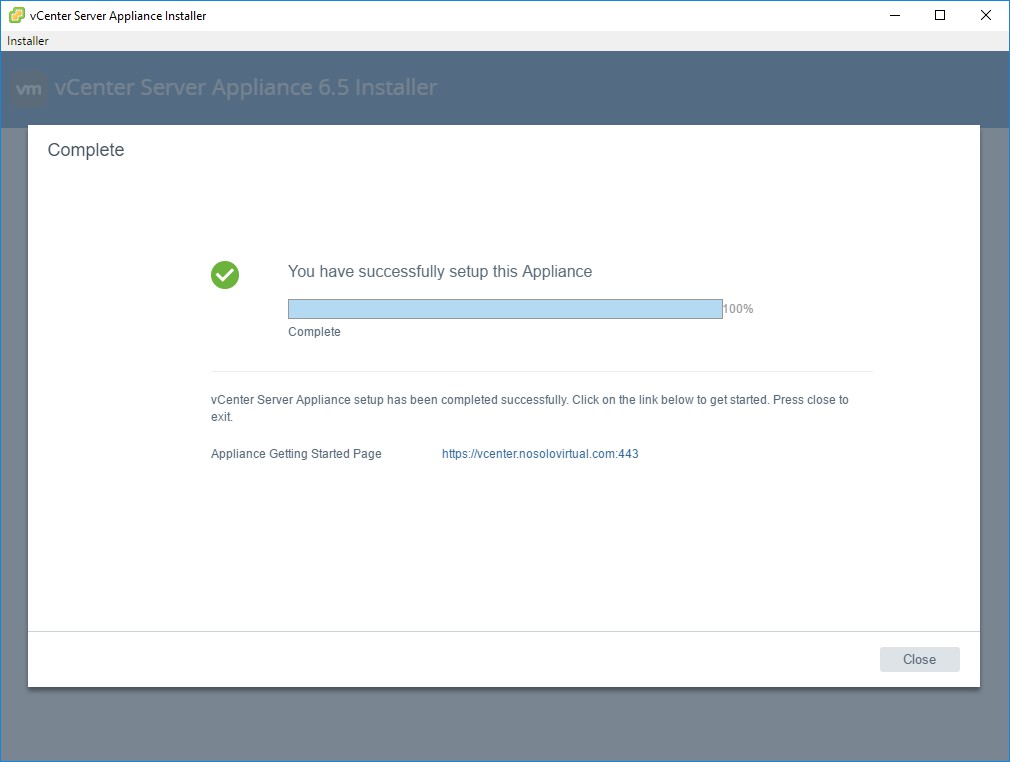 la instalación ha finalizado. Sólo queda hacer login en la interfaz web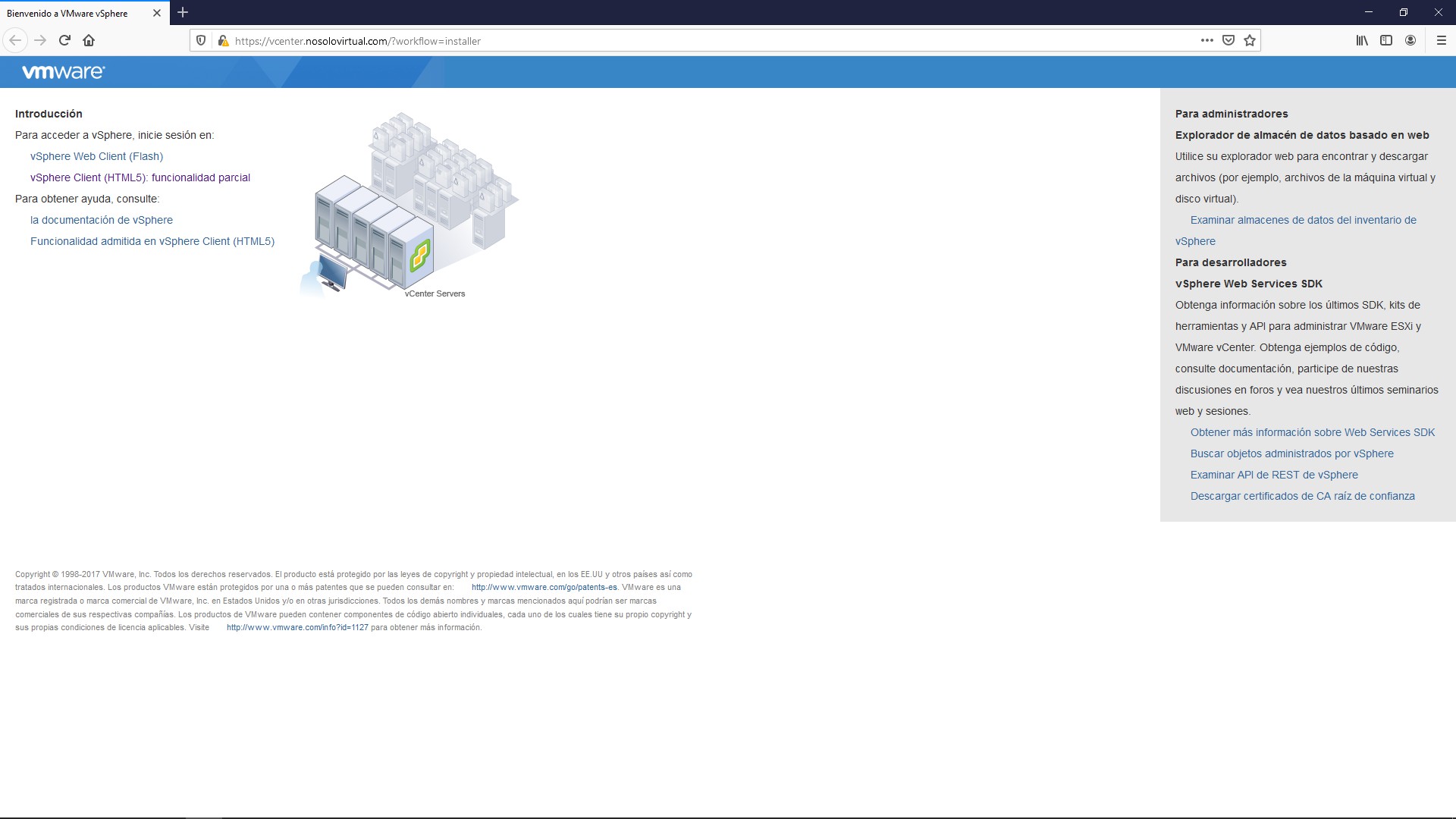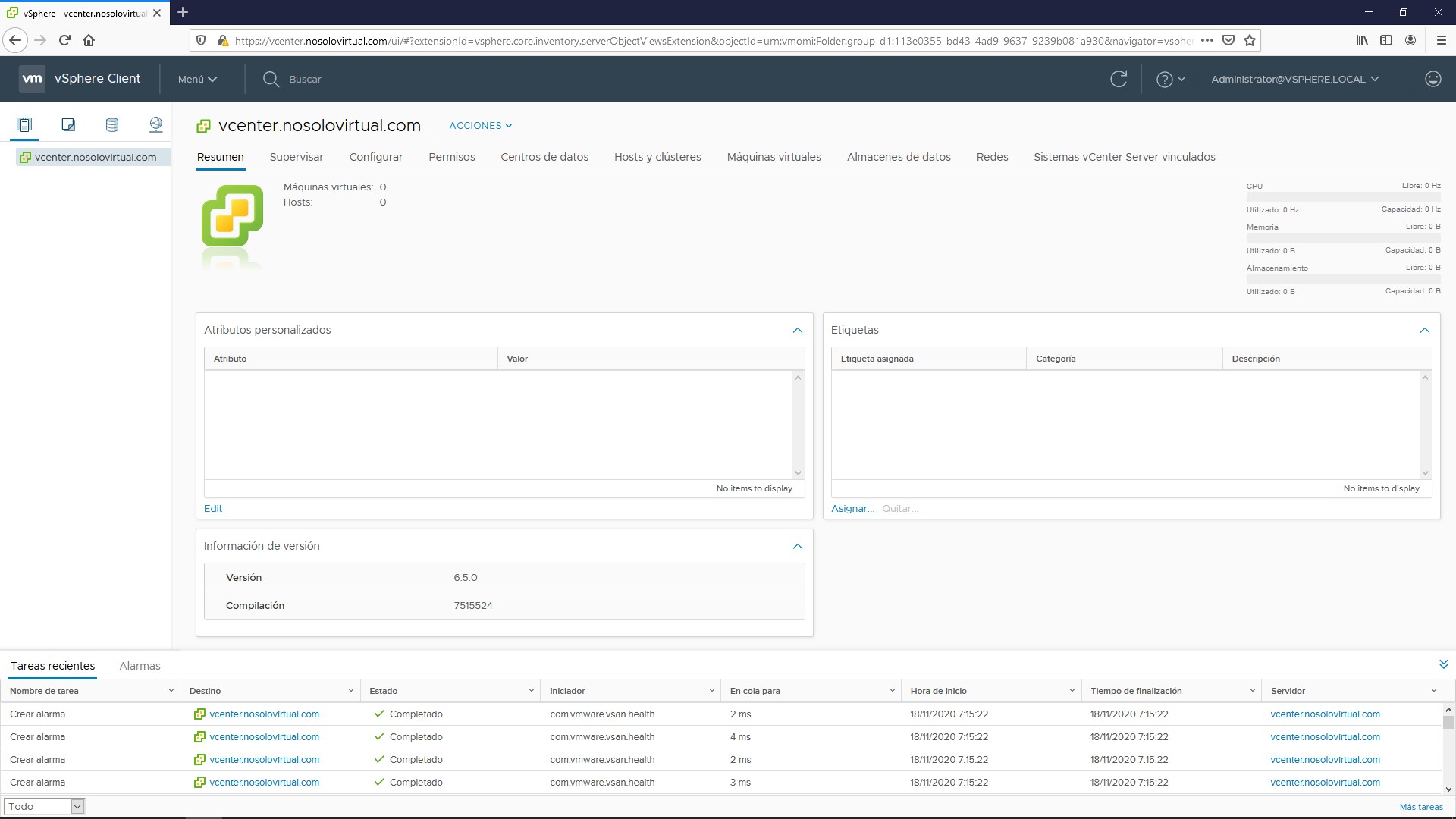 Los servicios iniciales que corren en el appliance son:
root@vcenter [ ~ ]# service-control --status
Running:
applmgmt lwsmd pschealth vmafdd vmcad vmdird vmdnsd vmonapi vmware-cis-license vmware-cm vmware-content-library vmware-eam vmware-perfcharts vmware-psc-client vmware-rhttpproxy vmware-sca vmware-sps vmware-statsmonitor vmware-sts-idmd vmware-stsd vmware-updatemgr vmware-vapi-endpoint vmware-vmon vmware-vpostgres vmware-vpxd vmware-vpxd-svcs vmware-vsan-health vmware-vsm vsphere-client vsphere-ui
Stopped:
vmcam vmware-imagebuilder vmware-mbcs vmware-netdumper vmware-rbd-watchdog vmware-vcha
y tener en cuenta sus diferentes opciones:
positional arguments:
services Services on which to operate

optional arguments:
-h, --help show this help message and exit
--start Perform start operation on VMware services.
--stop Perform stop operation on VMware services.
--restart Perform restart operation on a single VMware service.
--status Get running status of VMware services.
--list List all controllable VMware services. This option will soon be deprecated. Please use
--list-services.
--list-services Lists all controllable VMware services.
--list-dependencies Lists dependencies for a given service.
--vmon-profile VMON_PROFILE
Start/Stop services associated with given profile name.
--all Start/Stop all VMware services i.e. core and the default mgmt services).
--ignore Ignore errors. Continue with given operation even if errors occur.
--verbose Display detailed information.
Link a documentación oficial:
vcenter-server-65-installation-setup-guide.pdf